Doug Buenz: Hi, this is Doug Buenz with the 680 Homes Group at Venture Sotheby's International Realty and 680homes.com. Welcome to this episode of Tri-Valley Living, where we explore the lifestyle and community elements that make this area so special.
Doug Buenz: Pleasanton schools are an important part of our community. The Pleasanton Unified School District is outstanding. Our local high schools, the Amador Valley High School and Foothill have recently been named among the best public high schools in California. Our Pleasanton schools are getting involved in serving the community in big and small ways alike.
Doug Buenz: Alisal Elementary School was the very first elementary school in Pleasanton. Today, we are talking to Alisal Elementary PTA President, Lisa Walter and I'm going to turn things over to Tiffany and Lisa.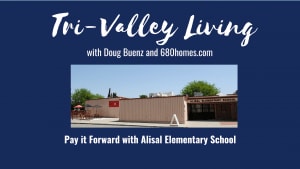 Tiffany Barnes: Lisa, tell me how long have you been a resident here in Pleasanton?
Lisa Walter: We moved here about a year and a half ago.
Tiffany Barnes: What drew your family to come to Pleasanton?
Lisa Walter: It's an incredible town. We came from San Jose and we were looking for a place that felt smaller, with smaller town, more community, more sense of family activities and we just found that in Pleasanton. We came to the farmer's market, went to the downtown area, looked at the schools and everything fell together. It's the right town.
Tiffany Barnes: Did the quality of this school district have anything to do with choosing Pleasanton as your new home?
Lisa Walter: Absolutely. In fact, I even read newsletters from the schools before we moved here and it gave me a sense of how principals were talking to the communities. And then, I did some research about parent involvement and saw that parents were very involved in Pleasanton in the schools and that was it for me. That's where I wanted to be.
Tiffany Barnes: Excellent. Tell me a little bit about the Raise Craze fundraiser that's currently going on at Alisal.
Lisa Walter: Okay. Raise Craze, I'm super excited about it because its focus is kindness. Of course, we are raising money. All schools need money, but our focus is really to emphasize the feeling of making a positive impact on the community and we want the students to really think about what kinds of differences they can make, even in TK, in first grade.
Lisa Walter: The idea behind the bigger idea is, everyone can give in some way and we all need things. Right? We're asking friends and family in community, if you can't contribute financially, that's wonderful because we want to support these programs and what our 650 students and staff at the school are doing is finding ways that we can contribute as well.
Lisa Walter: For first graders, second graders, it might be emptying the dishwasher at home for your family. It might be families together making a meal and surprising someone in the neighborhood. Picking up trash in the park. Some families are reaching out and doing even bigger outside of their home activities and writing letters to veterans. Just all kinds of things where we can pay it forward, so everyone is giving.
Tiffany Barnes: That's just amazing. Now, explain to me, how do those random acts, you touched on it a little bit, but how do those random acts translate into raising funds for the school?
Lisa Walter: I think it really is just that we're asking everyone to give in ways that they can. By promoting the fundraiser and we're talking about the acts of kindness that we can do. If families can't give money to the school, maybe they could consider other ways that they could help their neighbors as well. Just perpetuating that feeling and that desire to pay it forward and to be kind.
Lisa Walter: We do hope that people decide that, hey, I have an extra $25, $50. I'm going to send it to Alisal where these kids are making a difference. And they'll know that they're making a difference in our lives too, by supporting the programs and funding that we need.
Tiffany Barnes: Excellent. How will the funds be used at Alisal?
Lisa Walter: The funds of Alisal go lot to what the teachers want specifically for their classrooms. We do teacher grants. It's the way that we can allow our third graders to watch caterpillar turn into a butterfly. You can buy the chicks and differentiated learning materials too. That's one of the big things.
Lisa Walter: What the fundraiser is in line with is our mission and vision at Alisal, which is meeting the students where they are. I feel like it all ties together in a really beautiful way that we're able to then give the teachers the things that are coming right back to our students in very specific ways.
Tiffany Barnes: That is excellent. For our viewers that are watching this, is there a website that they can go to, to make a contribution if they feel led to contribute to Alisal?
Lisa Walter: Definitely. There's a website that you can go to if you want to support this fundraiser at Alisal and it's raisecraze.com and there's a specific link to get to our school site.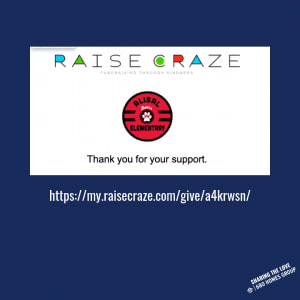 Doug Buenz: Thanks to Lisa for sharing the ways that Pleasanton schools are unique and contribute to the education of our kids and creating a community of kindness.
Doug Buenz: If you are considering a move within or to the Tri-Valley and school boundaries are important to you, please check out our search by school boundary option at 680homes.com.
Doug Buenz: As always, if you know someone who could benefit from this information, please share it with them. And if we can help you or anyone you know with your real estate needs, give us a call at 925-621-0680 or visit us on our website at 680homes.com. Thanks so much for watching.