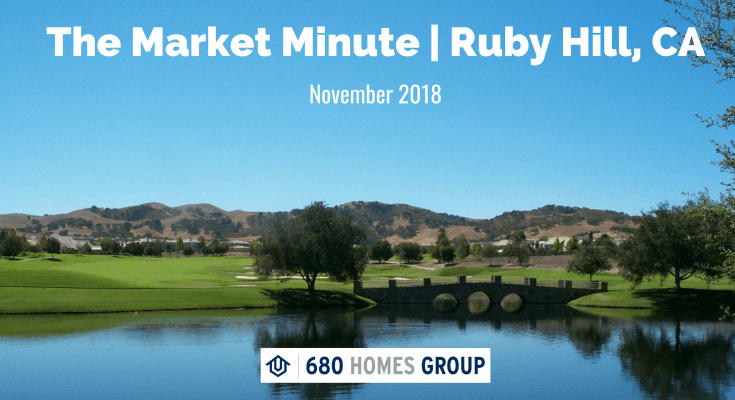 Hi everybody. This is Doug Buenz with the 680 Homes Group at Venture Sotheby's International Realty and
680homes
.
This is the November Market Minute for Ruby Hill, California. The market in Ruby Hill remains rather sluggish. Right now, at the end of October, there are nine homes for sale, and that is down from 15 at the end of September. So, inventory is constrained a little bit, which certainly helps. There were three pending sales in October, which is identical to the three pending sales in September, and there was five closed sales in October, relative to two in September. So, a little uptick in closed sale activity, but the market remains rather sluggish.
The median price per square foot for active listings in Ruby Hill is $556 a square foot. For pending sales, it is $535, and for sold properties, it is $500. That shows you active listings are priced higher than the pending and sold products, another indication that the market is a little bit slow.
The absorption rate for Ruby Hill right now is 33%. That is the amount of inventory divided by the number of sales, therefore giving you how much of the inventory gets absorbed, which is the absorption rate, and that is 33%. That is about on par for these kinds of neighborhoods.
Another indication that the Ruby Hill market is a bit sluggish is the percentage of listings with price reductions. So, all active listings, 44% of the listings in Ruby Hill, have had price reductions. That is active listings at the end of October. 67% of the pending sales in October had price reductions, and 20% of the closed sales in October had price reductions. You can see there is a lot of downward pressure on prices in terms of asking prices. You can see that sellers are under some pressure to try to move the needle with a price adjustment.
If you look at homes over $3 million in Ruby Hill, that is a very slow market. Right now, there are seven active listings out of the nine total which is over $3 million. There are zero pending sales, and there is one closed sale. So, you get over $3 million and the market definitely gets a lot tougher.
So, in summary, the Ruby Hill market, like many luxury neighborhoods, is very soft right now. The good news is that inventory is constrained, at least good news for sellers. So, that should put some pressure on buyers, but overall that price segment, especially over $3 million, is very soft.
That is it for now. Be sure to like this and share this with your friends if you think they would find it interesting. We also invite your comment on this video below. And as always, if we can help you or someone you know with your real estate needs, please reach out to us at (925) 785-7777, or visit our website at
680homes
.
Thanks for watching.