The Pleasanton real estate market remained spotty in August, with a continued slowdown in activity. Closed sales were down slightly from last month (-1.6%), and average days on market were up 14% to 24. The median sold price per sq ft was down 5.4% compared to July, and median sold price was down sharply at $1,570,000, down 7.6% from July.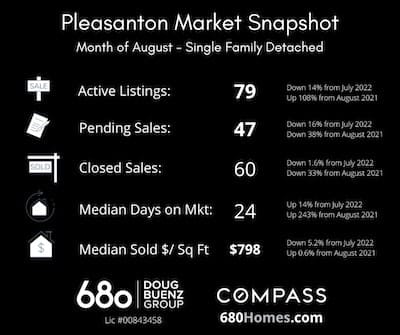 Interestingly, while the median $/sq ft was down 8.2% from June, it is still up slightly (0.6%) from last year (August of 2021), indicating that prices are around what they were a year ago. Inventory actually contracted in August, down 14%. So inventory remains low by historical standards, with 79 single family homes available at the end of August. This is helping to keep some stability in the market. However, pending sales (under contract) were also down 16%.
Also, 34% of the active listings currently have had price reductions, again showing that some sellers are having to reduce their asking price to generate interest
Another trend that illustrates in stark terms the shift in the market is the average sales price to list price ratio. In April of this year, the AVERAGE sales price to list price ratio was an astounding 118%, indicating that on average homes sold for 18% over asking. In August, that ratio of sales price to list price was 95%. Now homes selling for 95%, still good, but a stark contrast to the ridiculous auction like condition in April.
For sellers, it is time to be realistic about your pricing. And you would be well served to do as many quick upgrades as possible to make your home appealing. Buyers now have the luxury of choice, so it is critical to remove as many objections as possible and practical.
For buyers, now is the time to shop quality. Not all homes will sit on the market. The true cream of the crop homes will still get interest from other buyers. If you are looking for a deal, there are definitely some good buys out there if you are willing to do some cosmetic improvements after you close
In uncertain market conditions like this, you need a true professional to guide you. Call me today and let's talk about you and your real estate needs.