The Pleasanton real estate market continued its sluggish ways in January, at least in terms of statistics. From a statistic standpoint, it was the same old story. Closed single family homes were unchanged from December, but down 24% from January of 2021. Inventory continued to be constrained, dropping by 38% from December and 23% from January of 2021. The Median price per sq ft was down 4% from December, and 7.6% from January of 2022. Median sold price also declined, down 4% from December of 2022 and 20% from January of 2022. Pending sales declined by 4.5% from December, and down a whopping 38% from January of 2022. Median days of market did show some improvement, with a 29% decline from December of 2022, but still 88% higher than last year at this time (January 2022)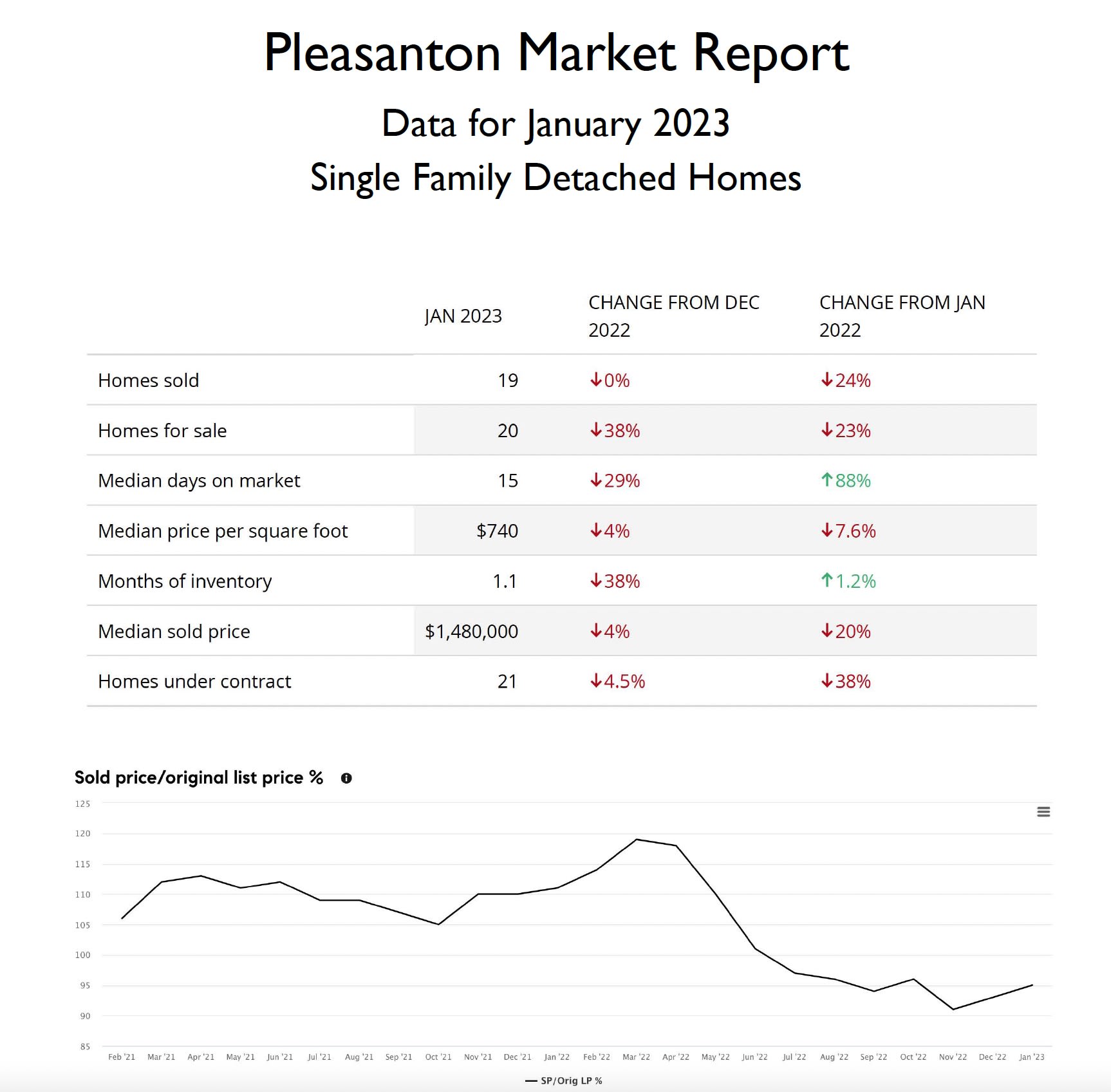 However, there are some signs of hope amidst the sluggish start to the year. The sales price to list price ratio is higher for the second straight month. In November of 2022, homes were selling on average for 91% of the asking price. December saw it tick up to 93%. And in January, homes were selling on average for 95% of the list price. Some of this is due to sellers being more realistic in their pricing, but it is also a reflection of an increase in demand.
Mortgage interest rates have also eased in the new year from their highs, helping to lure some home buyers back in the market. Mortgage rates are still significantly higher than this time last year (about double for fixed rate loans), and they should ease more if/when the Fed is able to tamp down inflation. And traffic at open houses and in new home developments is up strongly from where it was at the end of last year, another sign that buyers are starting to drift back into the market.
The lower price ranges seem to be seeing the strongest increase in traffic and interest from buyers, but we are seeing more activity in the luxury segment as well. We are even seeing some multiple offer situations on aggressively priced homes. Everyone in the real estate and mortgage industry are holding their collective breath that this is a sign that the market has started its recovery. Only time will tell if we are on the road to recovery, or if there are more pot holes and detours ahead.