When it comes to golfing, the Tri-Valley area is hard to beat. With so many world-class courses located in such a small part of California, there's something for everyone. If you love golf and are looking for a place to invest in luxury real estate, the Tri-Valley area is an excellent choice. Whether you're a beginner or a pro looking for Tri-Valley golf courses to try your hand at, these five courses will provide amazing tee times along with exclusive membership benefits and amenities.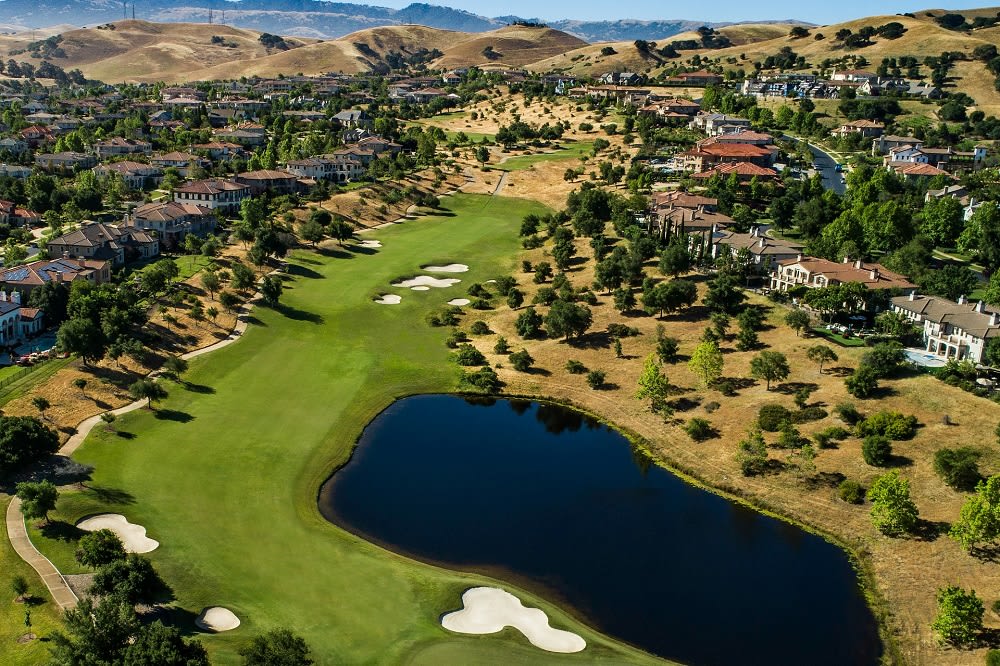 Photo courtesy of The Club at Ruby Hill
Situated atop rolling hills in Pleasanton, The Club at Ruby Hill provides stunning views of the Livermore Valley vineyards. This course features two 18-hole championship layouts as well as a 9-hole executive course. One of the region's most well-regarded full-service private clubs, Ruby Hill is a perfect choice for those looking for a challenging round of golf. If you're looking for activities outside of the championship course, you'll find 225 acres encompassing areas for tennis, swimming, and bocce ball. The executive chef at the club's restaurant offers an often newly-imagined daily menu filled with fresh local ingredients. You can choose to dine in the
Main Dining Room, at The Reserve, or The Grille
. Each offers a unique culinary experience that'll dazzle your taste buds.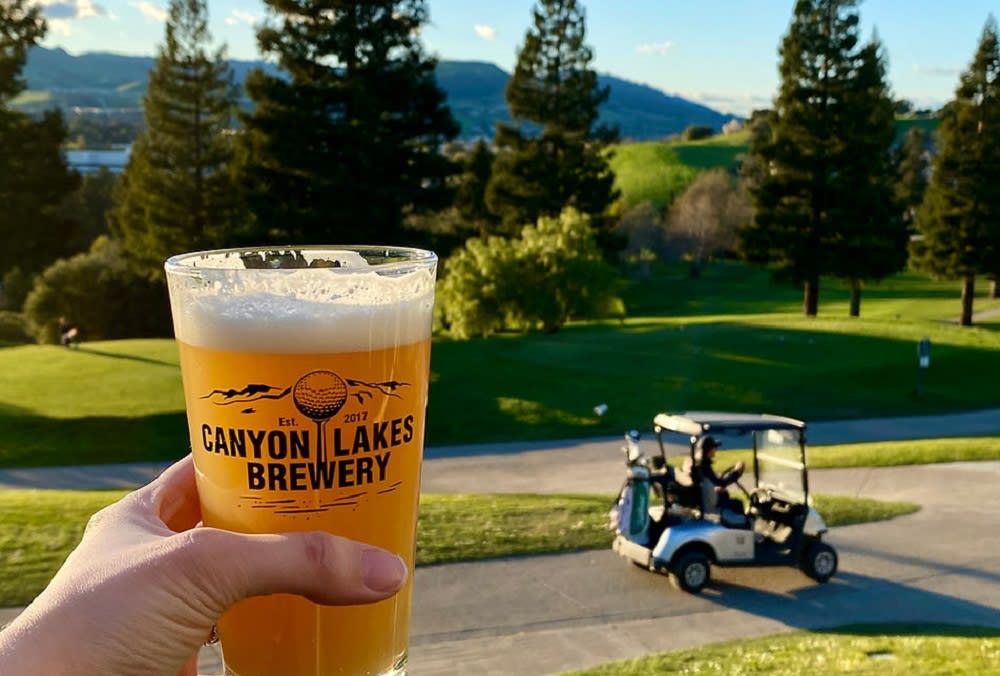 Photo courtesy of Canyon Lakes Golf Course & Brewery
Located in the heart of San Ramon, Canyon Lakes Golf Course & Brewery is a favorite among local golfers. This course features rolling fairways, picturesque lakes, and challenging elevation changes. Canyon Lakes is also the first championship 18-hole golf course and craft brewery in the country. The brewery serves award-winning beers like its cream ale, Fairway Gold, and its German lager, Gold Topper Lager. With its vast selection, there's something for everyone. Additionally, its restaurant has a
menu
featuring local ingredients, serving everything from chicken wings to spicy red curry made from scratch.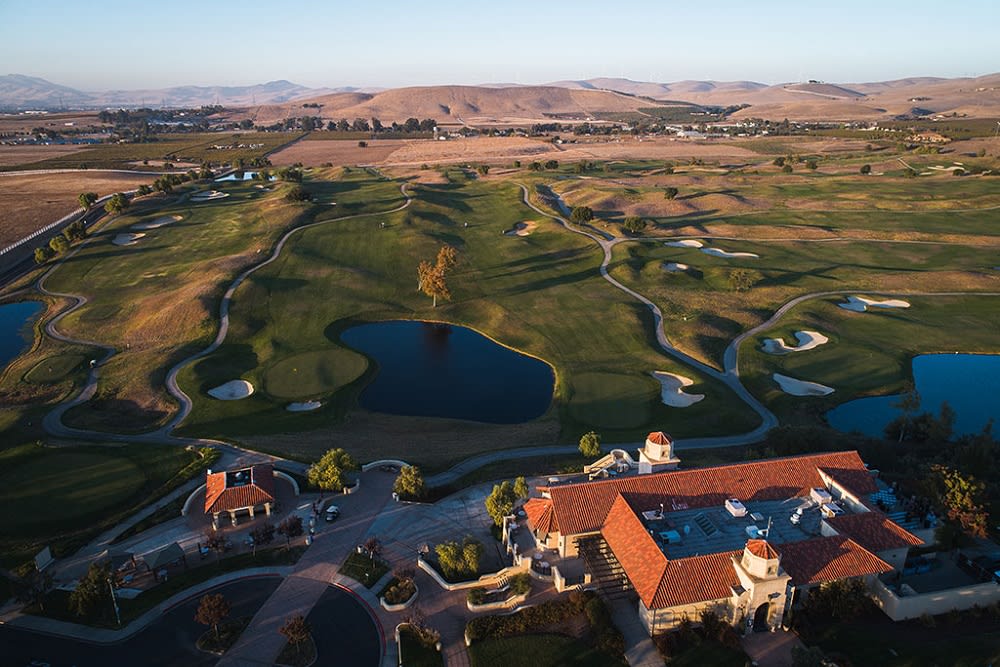 Photo courtesy of Poppy Ridge Golf Course

One of the most popular golf courses in Livermore, Poppy Ridge features a clubhouse with a pro shop, a restaurant, and a bar. There are also locker rooms, showers, and a beautiful lounge area for guests to use. The course itself was designed by world-renowned golf course architect Robert Trent Jones Jr. and offers multiple teeing options to accommodate all skill levels. The course is situated on 200 acres of rolling hills in the Livermore Valley, offering stunning views of the surrounding vineyards and mountains. If you're an NCGA member, you can enjoy 27 holes and open spaces with member-only tee times. Otherwise, all players are welcome to try their skills on the three 9-hole courses, which can be played in any combination.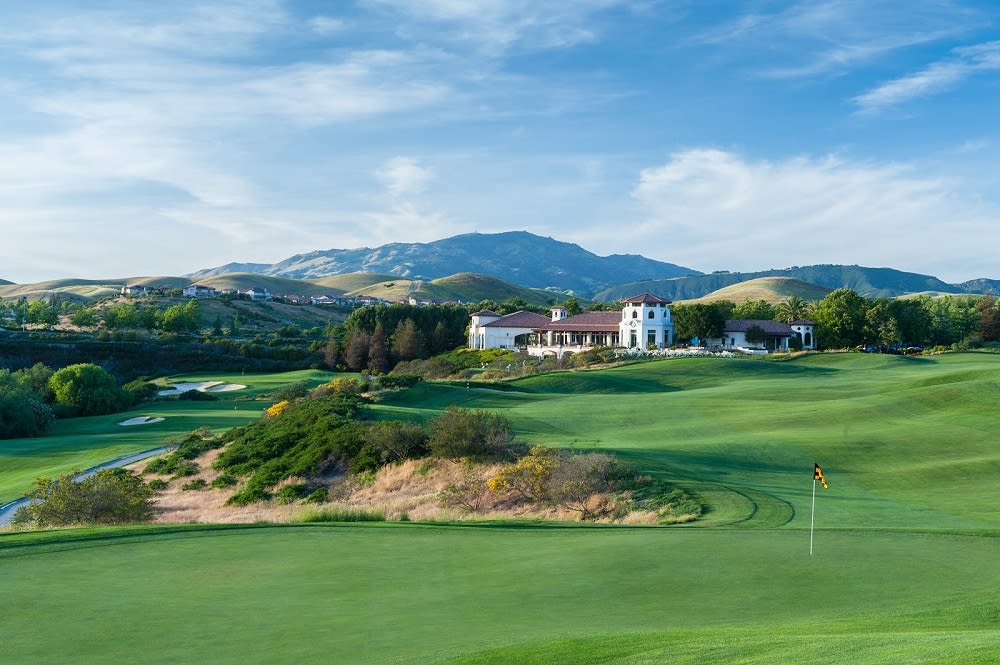 Photo courtesy of The Bridges Golf Club
The Bridges Golf Club rests in the foothills of Mt. Diablo, just 35 miles east of Downtown San Francisco, and has a luxurious Mediterranean aesthetic with tiled roofs, white walls, and turrets. Beyond its gorgeous vistas, this club is home to
The View
, a restaurant featuring delicious contemporary California cuisine. The Bridges Golf Club has several different membership options to choose from, including a
Premier Access Club Exclusive Membership
and the
Bridge's Men's Club
. Regular members have unlimited access to the golf course, can make tee-time reservations two weeks in advance, and receive other discounts and complimentary services.

San Ramon Golf Club is a private luxury club in the heart of Silicon Valley that offers 18 holes of championship golf, a full-service clubhouse with dining and event facilities, and a pro shop. This club also has an outdoor pool and tennis courts to enjoy when you're not playing a round of golf. Open only to members and their guests, this course is just minutes from Downtown San Ramon and features beautiful views of Mt. Diablo. Membership benefits include access to all of the club's facilities as well as discounts on green fees and cart rentals. The club also hosts various social events throughout the year, such as member-guest tournaments and holiday parties.
Want to live in the area?

If you're a golf enthusiast, the Tri-Valley area is one of the most desirable places to live in the Bay Area. It offers a luxurious lifestyle with plenty of golf options, moderate weather, and beautiful scenery. It also has excellent schools, so if you're looking for a place to call home, the Tri-Valley area should be at the top of your list.
680 Doug Buenz Group
is a top-rated real estate team that can help you buy or sell a home in the Tri-Valley area quickly and easily. They have years of experience in the industry and know the ins and outs of the market. Their team is made up of dedicated, knowledgeable agents who're committed to helping you find your dream home. They understand buying a home can be stressful, which is why they work hard to make the process as smooth and easy as possible.
They're a people-first real estate agency that prides themselves on being market-savvy while staying empathetic to their client's needs. The team's knowledge of the luxury market enables them to negotiate on behalf of their clients to get the best possible price on their desired property. The team uses their expertise to guide you through every step of the process, answering any questions you may have. When you work with 680 Doug Buenz Group, you also have access to their exclusive home search tool, which allows you to
browse luxury properties
from the comfort of your home.
When you're ready to make an investment in Tri-Valley real estate, you want to work with someone you trust. Reach out to
680 Doug Buenz Group
today to start your luxury homebuying journey and find a home that not only meets but exceeds your wildest expectations. The green is calling to you. Why not make it part of your everyday?

*Header photo courtesy of Unsplash