The Pleasanton real estate market surged again in May, driven by extremely low inventory and surprisingly strong demand. We continue to see homes selling quickly, often with multiple offers, especially in the lower price range. There simply is not enough inventory to meet demand at the moment.
A huge factor in the lack of inventory is the fact that many homeowners are sitting on existing loans that are about half what the current mortgage rates, which is a disincentive for many of these owners to move. In a more normal market, there would be sellers who want to sell their current home and move into another home locally, looking for a home that more suits their needs. However, even if they obtain a new mortgage loan at the same amount of their existing loan, the payments for a fixed rate mortgage will be 50% higher. As a result, inventory is largely relegated to sellers who are moving out of the area or out of state, or have other life circumstances prompting them to sell such as divorce, financial duress, etc. And demand is robust, which is somewhat surprising given the high interest rates and general economic uncertainty. The result is a strong seller's market, where lack of inventory is creating competition for most homes that are attractive and well-priced.
In terms of data, there were only 33 single family homes for sale at the end of May, an extremely low level. In fact, it is 20% below the available inventory at the end of April, and a whopping 64% decline from May 2022. At this point it is safe to say that sales activity (pending & closed sales) would be much higher if there was more inventory. But the normal Spring surge in inventory has not yet emerged.
Closed sales in May were up 69% over April, but down 28% from May of last year. Pending sales were up 19% from April, but down 14% from May of 2022. The median sold price was up 2.9% from April, but down 10% from May 2022. Median days on Market was steady at 7 days. And the median price per sq ft was down about 1% from April, and 11% lower than May of 2022.
The average sales price to list price ratio remained steady 104%, a further indication of multiple offers on many listings. At the peak in April of 2022, the average sales price to list price ratio was 118%.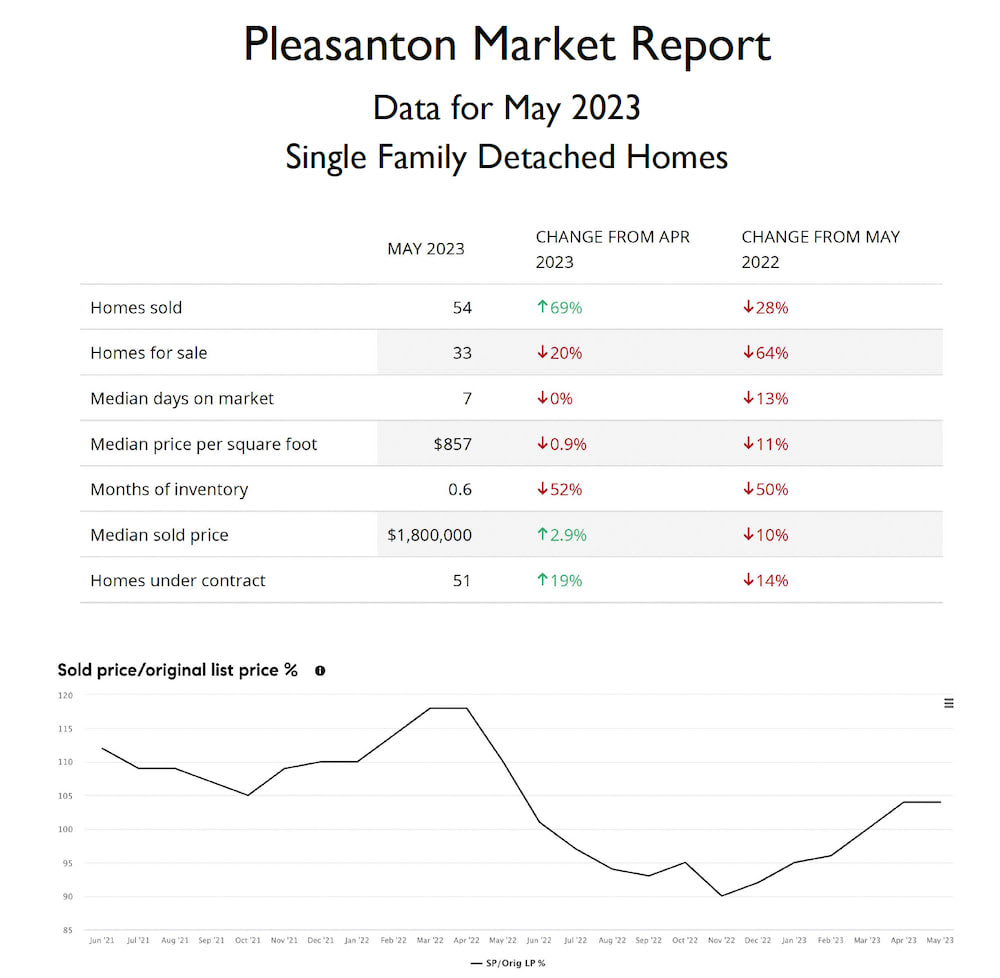 Interest rates have surged about ½% in the last couple weeks, with 30 year fixed mortgage rates averaging around 6.8%. Keep an eye on inflation, which has the most direct impact on mortgage rates. IF we see inflation ease we will see long term mortgage rates ease as well.
For sellers, the market is strong, especially in the lower price ranges. Cosmetic fixes before you go on the market are important to make sure your home appeals to today's buyer. It is also wise to get inspections, and if possible complete the recommended repairs. The more potential objections you can eliminate the more attractive your home will be to buyers
For buyers, competition has heated up for the best homes on the market, so be prepared to be aggressive in your offers. You are still buying at a discount from the peak of the market last Spring, so in a sense all of the homes available are on sale. And remember the old saying "You marry the house, but date the rate". You can always refi down the road if/when rates come down, or even consider adjustable rate loans that are fixed for 5-10 years to buy time.
Now more than ever it is crucial to get the advice of a professional REALTOR. If you would like to discuss the current market and how it impacts you, give me a call today at (925) 621-0680. As a broker with over 30 years' experience, I am here to help.