Pleasanton Real Estate Market Update – October 2022
The Pleasanton real estate market in October showed much the same. Most key indexes were lower, with homes sold down 21% from September and 41% from last October. Inventory is down 29% from September, but up 157% from October of 2021. Median days on market increased by 50% from September, and is up a whopping 329% from October of last year.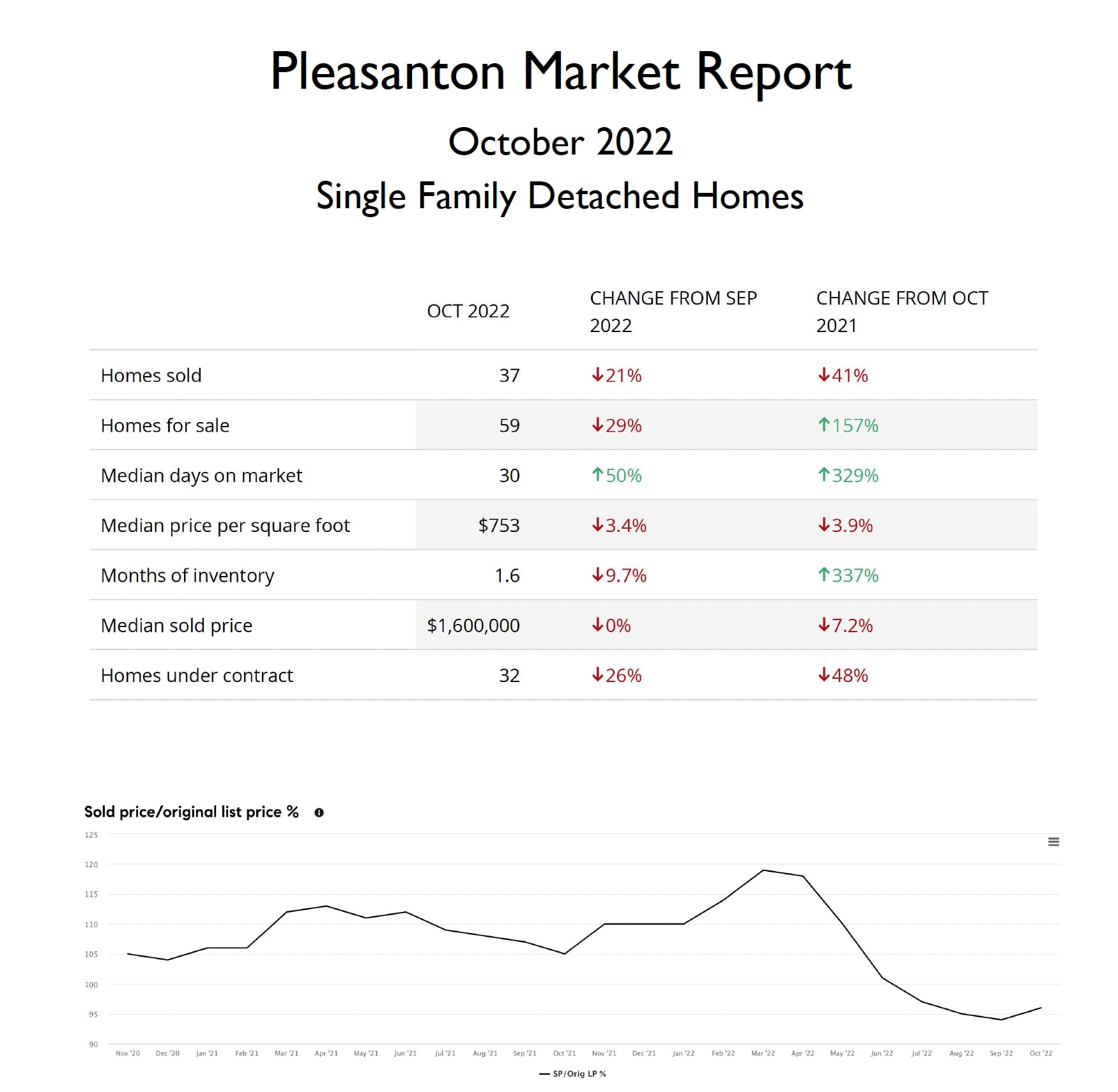 The median price per sq ft was down 3.4% as compared to September, and down 3.9% from October of last year. The median sold price remained unchanged from September, but is down 7.2% from October 2021. And pending sales are down 26% from September, and 48% from October of last year.
Inventory is constrained right now (no surprise given the time of year), which is reducing the number of sales. Normally when inventory is tight you might expect to see upward pressure on prices, but that is not the case right now, and continued concern about the economy, the sharp rise in interest rates, and a general mood of uncertainty rules the day.
There are some sellers who are getting smart about pricing their homes. The Sold price/List price % actually rose slightly from 94% in September to 96% in October, indicating that some homes are priced more aggressively. As a reminder, in March the sold price/list price stood at 119%. The bottom line is sellers who are realistic about their asking price will see good activity. Those who are stubbornly holding on to the market that was are in for a rough ride.
So what does this mean?
For buyers, it is an excellent time to value shop. Your often stated wish has come through: no more competing for homes. You now have the luxury of shopping for homes. You have time to make a reasoned offer without the pressure, versus having to decide in 24 hours after seeing the house once. You can also make an offer for less than asking price in most cases. And you can add contingencies into your offer, which has been almost unheard of in the past 2 years.
Now more than ever it is crucial to get the advice of a professional REALTOR. If you would like to discuss the current market and how it impacts you, give me a call today at (925) 621-0680. As a broker with over 30 years' experience, I am here to help.