In terms of real estate, 2021 came in like a lion and out like a lamb. What started as an over-heated (and unsustainable) seller's market stalled mid-year as a result of sharp interest rate increases. Mortgage rates essentially doubled, driving up mortgage payments to home buyers, which drastically eroded their purchasing power and driving many to the sidelines. Add the general economic uncertainty, inflation concerns, and geo-political unrest, and you have a recipe for a very sluggish real estate market.
And the data from December shows a continuation of this sluggish market (see the chart attached)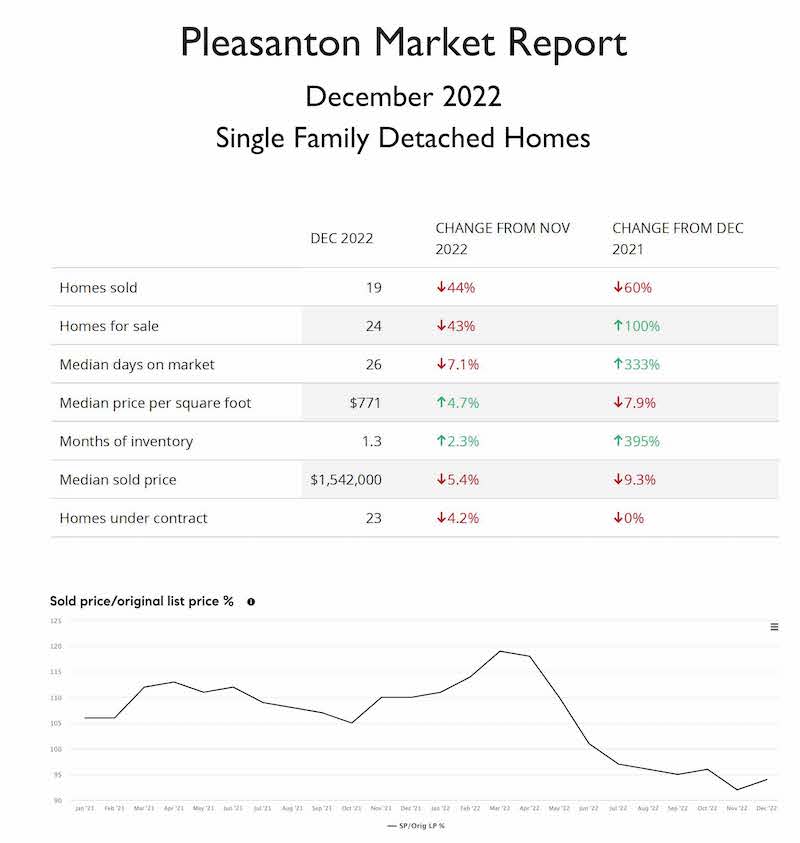 So what will the New Year bring? No one knows for sure. Unfortunately, my crystal ball is in the shop for repairs, as it has not been working at all. But here are some factors that will largely determine the performance of the Pleasanton real estate market in 2023:
Supply/Inventory: Inventory was generally constrained in 2021, which kept the decline of home prices somewhat manageable. This is partially due to the fact that many homeowners are sitting on very low interest rate loans as compared to current rates, so there is a built-in incentive to avoid moving. Other sellers are simply discouraged by the slide in home prices the last half of 2021, and kicking themselves for not selling at the peak. Some of these potential sellers want to see if the market will recover in the near term. A large influx of inventory would likely add more downward pressure on home prices, but I expect inventory to continue to be somewhat constrained this year.
Demand: 2021 saw a marked decrease in demand, with many home buyers heading for the sidelines and sitting tight. A common sentiment I heard from many buyers last year was "we want to wait and see what happens". It was largely the deterioration of demand that caused the slump in home prices, with higher interest rates being the key driver. If we see evidence that inflation is stabilizing and edging lower, it would result in lower rates, which could pull some buyers off the sidelines and into the market, especially if buyers get a sense that the market has bottomed out. Whether we see this in 2023 is an open question
Interest Rates: Definitely the key factor in driving the market this year. Again, if the government can tame inflation and convince investors that the inflation outlook is lower going forward that could result in lower mortgage rates. But is that likely? Time will tell
Economic Considerations: In addition to interest rates, we are starting to see lay-offs in the Bay Area, especially in the tech sector… the golden goose of our local economy. We are also hearing the "R" word (recession) emerging more and more. A drastic slowing of the economy will definitely impact demand, and could lead to more supply. The only potential good news would be that a slower economy will typically put downward pressure on both inflation and interest rates
So how does this all shake out? I will let you know when I get my crystal ball back from the repair shop. I'm hoping for an improved market. My best guess is 2023 will look a lot like the last