The Pleasanton real estate market showed improvement in February, with virtually all metrics showing positive gains for the month. Thanks to a drop in interest rates in January and the feeling among some buyers that the market is at or near the bottom after the strong decline in values, activity surged in February. Closed sales, median price per sq ft, median sold price, and pending sales were all up in February. And median days on market dropped almost in half to 8 days on average. And the sales price to list price ratio for closed sales in February surged to 97% on average, well above the 91% ratio we saw in November of last year.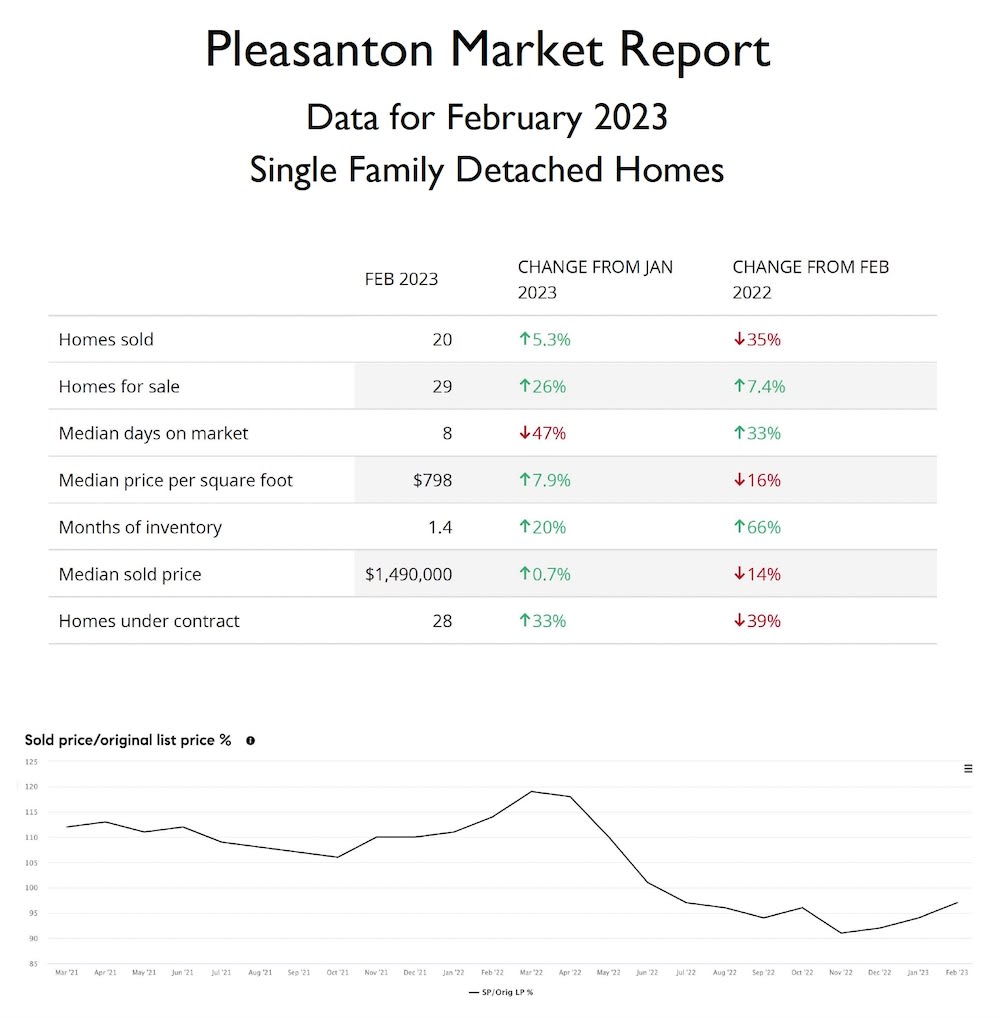 While buyers in general remained cautious in terms of what they were willing to pay, some buyers even found themselves in multiple offer situations again. All of this is good news to sellers who have been battered by the erosion of value over the last 8 months.
In terms of the outlook for the Pleasanton real estate market in 2023, interest rates remain a key factor. The average 30 year fixed mortgage rate hit a low of 6.12% on February 9th, down about 1% from the peak on November 10th of 2022 at 7.08%. However, unfavorable inflation reports last month have raised concerns that the Fed will need to raise rates further, and has resulted in a .5% increase in the average mortgage rate, which stands at 6.65% today.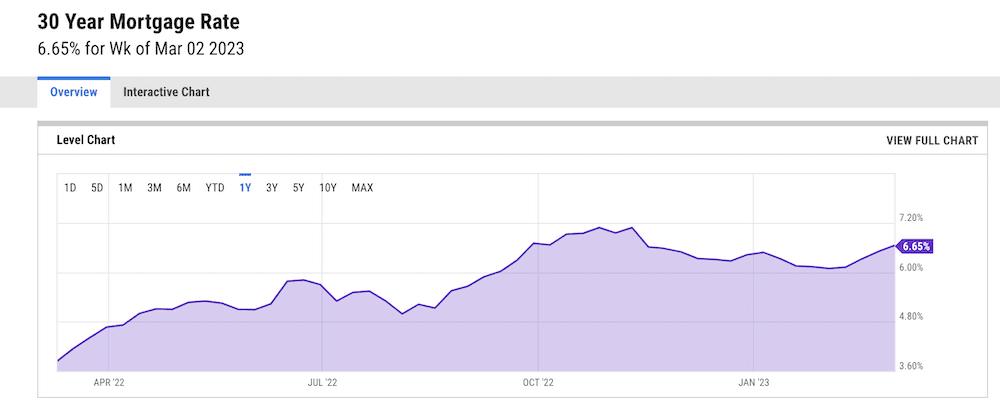 If rates continue to edge up it will likely start to impact demand going forward. Offsetting this is the fact that inventory continues to be constrained, so buyers have fewer choices, and may find themselves competing for the best homes on the market. All eyes going forward will be on inflation, interest rates, and recession. How these factors interplay will determine the outcome for the real estate market this year.
For sellers, the environment has certainly improved. Your home needs to be an attractive value in your price bracket. Cosmetic fixes before you go on the market are important to make sure your home appeals to today's buyer. It is also wise to get inspections, and if possible complete the recommended repairs. The more potential objections you can eliminate the more attractive your home will be to buyers
For buyers, competition has heated up for the best homes on the market, so be prepared to be aggressive in your offers. You are still buying at a discount from the peak of the market last Spring, so in a sense all of the homes available are on sale. And remember the old saying "You marry the house, but date the rate". You can always refi down the road if/when rates come down, or even consider adjustable rate loans that are fixed for 5-10 years to buy time.
Now more than ever it is crucial to get the advice of a professional REALTOR. If you would like to discuss the current market and how it impacts you, give me a call today at (925) 621-0680. As a broker with over 30 years' experience, I am here to help.