Inside Real Estate – Foreclosure Listings Online.
A week seldom goes by where I don't hear from one of my clients, all excited because they saw a property on Zillow or online that was really, really priced well. Usually those are what we call a pre-foreclosure listing. It is kind of bait and switch, unfortunately. These sites list these pre-foreclosure listings as if they are available for sale, and the reality is they are not available for sale.
What is a pre-foreclosure listing?
A pre-foreclosure listing means that a notice of default has been filed against the property. It means the owner is behind in their payments.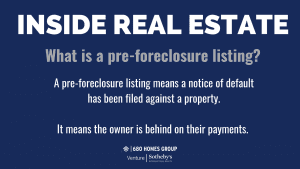 These homes are not for sale right now. There is no listing agent, there are no open houses, and there is no process to view the home. It is not available. It just means the owners missed a couple of payments.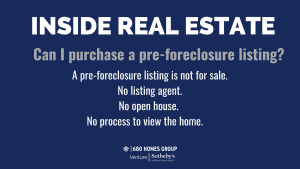 So, can you go knock on their door and see if they want to sell? Be my guest. I doubt they are going to be happy to hear from you. Most owners are embarrassed that their information is out in the public sphere and would probably be openly hostile to someone trying to take advantage of their situation.
So what do we do with that? Short answer, probably nothing. Most of those homes will never hit the market, that is my experience.
There are five normal outcomes from a property that is in pre-foreclosure.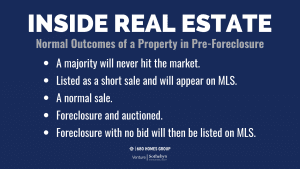 The first probable outcome is the majority will never hit the market. The owner will borrow money from a relative, they will do a loan modification, they will have a family member buy an interest, or they will file bankruptcy or use other legal maneuvering to stop the process or at least slow the process. That home may never see the market, and that is a fairly common outcome.
The second possible outcome is the property may get listed as a short sale if it is over encumbered, if the loans exceed the value. In this case, it will be on the MLS, because most lenders will not approve a short sale unless there is some kind of indication the property is on the market, so that they get the best possible price.
The third thing is, if there is equity, the house may go on the market as a normal sale. That is a possibility. We do not see it too often.
The fourth possibility is the home could go into foreclosure, and actually get auctioned at the courthouse steps. In this eventuality, it will sell for all cash, and likely to an investor who will either rent it out or fix it up and flip it. And of course, if they flip it, it will be on the market as a listing, so you will have an opportunity to buy it there. Can you buy it at the foreclosure auction? Absolutely, if you have all cash and you are willing to buy it as-is with all existing encumbrances, leans, and everything else. It is a fairly risky proposition.
And the fifth likely outcome is, if the property goes into foreclosure and no one bids on it, the bank takes it back, and it will ultimately be listed on the MLS as any other property.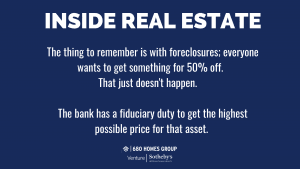 The thing to remember is, with foreclosure listings, everybody wants to get something for 50% off, and it just does not happen. The banks, the flippers, the owners, they all want the best price they can get. They are not charities, they are not there to give you a great deal, that is not their mission. So even if a foreclosure property does hit the market and it is bank-owned, that does not mean you are going to get it for 50 cents on the dollar. The bank has a responsibility and a fiduciary duty to get the highest possible price for that asset.
Hopefully this helps explain some of the myths about foreclosure listings online.
We invite your comments and questions. And, if we can help you or anyone you know with your real estate needs, please give us a call at 925-621-0680, or visit 680homes.com.