It is a privilege to have a backyard or outdoor entertainment space. After a long week of work, spending ample time in your outdoor space is a great way to recharge. An even better way to spend your leisure time is to plan a party with friends and family. Whether a birthday celebration, dinner party, or a "just because" gathering, outdoor spaces are a wonderful place for making memories.

If you are feeling a bit lost on where to start with planning your perfect outdoor party, don't worry! Check out some of the best steps to plan a backyard party that everyone involved will cherish!
Invite friends and/or family

All good events happen with the people you love in attendance! Step one for planning an outdoor dinner party is to text or call all the people you want there. Everyone seems to have a busy schedule these days, so make sure you give them plenty of time to mark their calendars. Typically, 3 or 4 weeks notice will ensure all your guests can make it.

Remember, try to find a date that works for most people. Once you have a good understanding of how many people are able to make it, you can start purchasing any materials or food items you will need. With an accurate headcount, you will not spend extra money on things that will eventually go wasted.
Decide on a theme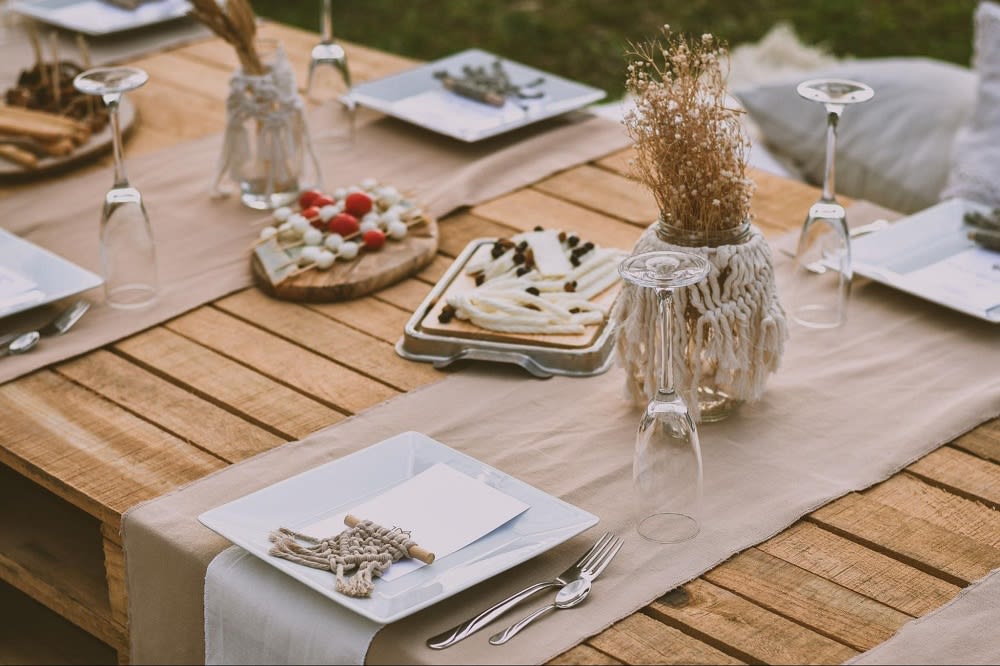 You don't necessarily have to create a big theme like a kids birthday party, but there should be an element of cohesiveness within your party.

For instance, do you want the staple colors to be pastel colors, neutrals, or bright colors? If you decide you prefer bright colors, you can incorporate oranges, greens, and pinks in your design. Some of the best ways to show off your theme are by purchasing flowers, napkins, tablecloths, and decorations that highlight the colors. If you are providing dinner, your salad could include tangerines or cranberries to add even more fun! Everyone will live for the Instagrammable moments at your party!
Providing drinks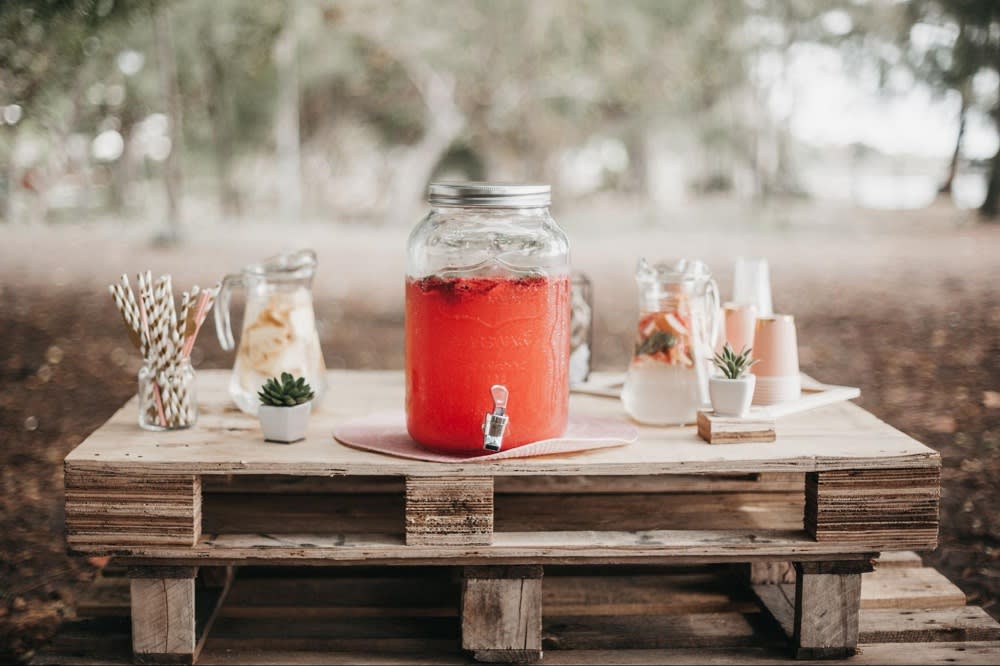 You can't throw a party without a tasty cocktail or mocktail! Providing your guests with a signature cocktail or mocktail (a non-alcoholic alternative) will give you bragging rights for weeks to come.

If your theme is centered around bright colors, try a Lilac French 75 or a simple orange juice mimosa. On the other hand, if your theme is more neutral, you can provide some white wine or a peach and thyme spritz. Get creative with it! This is your chance to try something new and play bartender for the evening. Utilizing fresh herbs and fruits will guarantee a tasty drink.
Decide on the food you will serve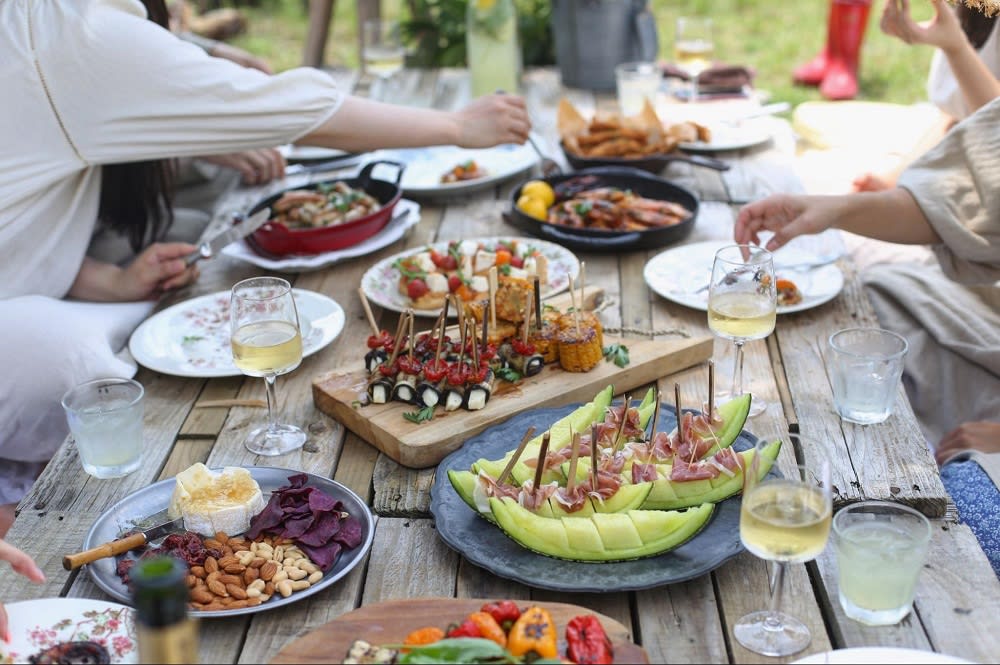 Figuring out what food to serve can be tricky sometimes. You will want something that is easy to share and serve to everyone at the table. Picking something like chicken pot pie will create more trouble than it's worth. Instead, opt for finger foods or easy-to-serve items.

To start off the dinner, you can create a large salad that everyone can serve themselves. For the main course, bite-size burgers, chicken wings, or deviled eggs are all great options. The last thing you want to do is create more of a hassle for your guests or yourself! You need to enjoy the party just as much as they do. Choose your food wisely.
Incorporate any other design elements you need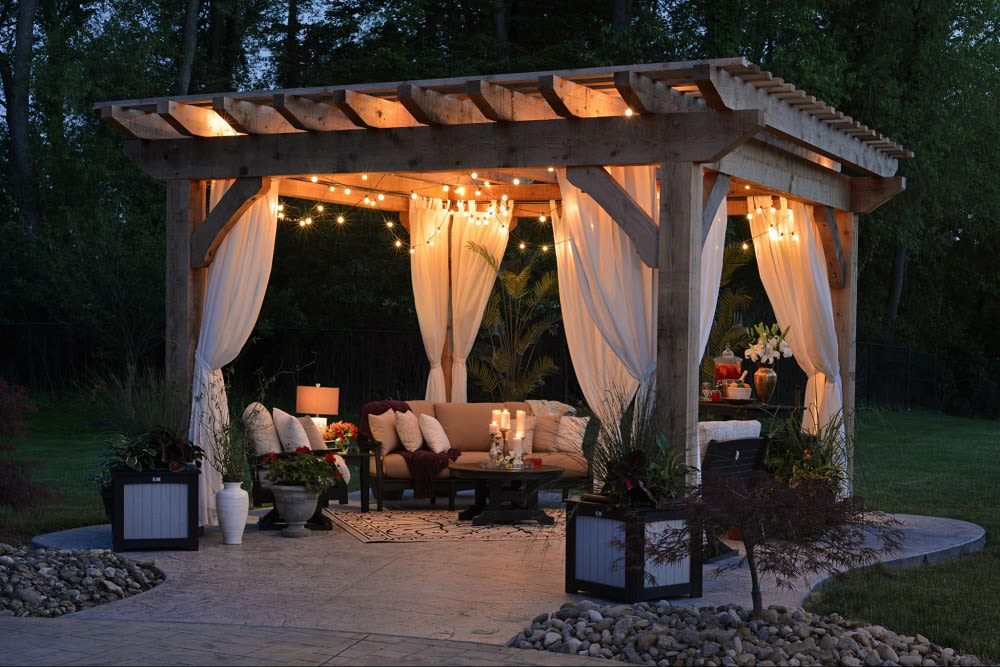 Sometimes, it's the little details that matter! Ensuring you have outdoor lighting and fun design elements will make for a comfortable and vibrant backyard party. Flowers, balloons, or comfy seating arrangements can take your party from average to superb! If the sun sets and people are still eating, outdoor lighting is a must-have. We know hosting can be hard, but if you add in a couple of key details, it can surely elevate your space!
Create a music playlist

What better way to throw a smile on your guests' faces than to play their all-time favorite tunes? It's not a bad idea to text some of your friends or family and ask them to recommend songs. Create a playlist that will not drown out conversations but can play nicely in the background. Jazz, alternative, or indie music are great for outdoor parties because it won't be too much!
Plan for the end of the night activities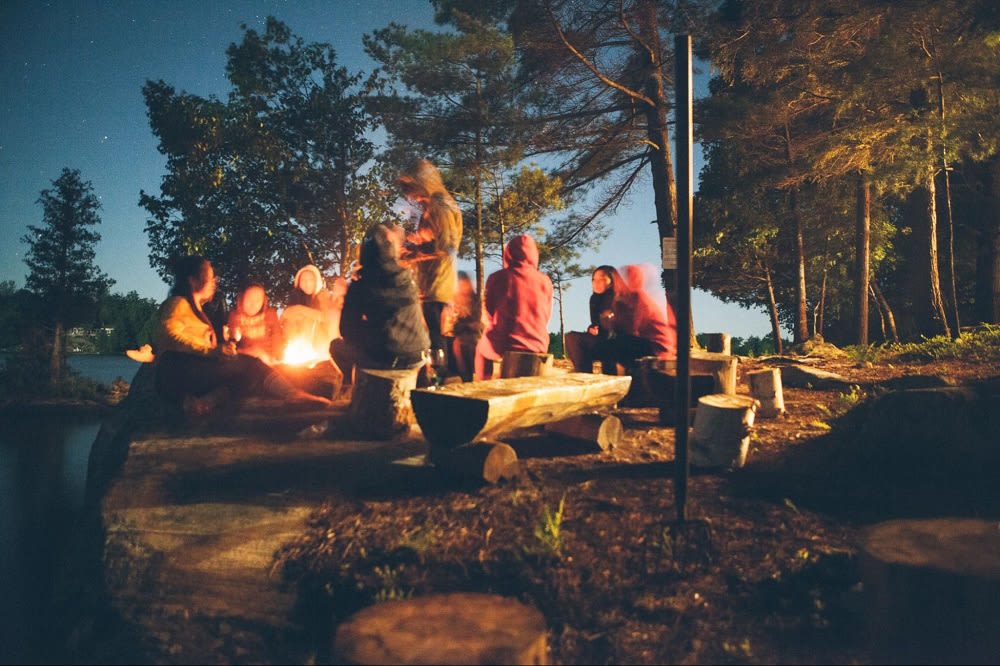 After dinner is over, your guests may want to stay longer to chat and mingle. If you have a fire pit, jacuzzi, or lounge chairs, utilize them! Ask guests if they want to roast s'mores or offer them another glass of wine to sip on until they're ready to leave.

Obviously, you want to maintain a firm boundary on how late they can stay, but if you're welcoming of them staying longer you may want to introduce additional nighttime options. Cozy up near the fire and live in the moment!
Thinking about upgrading to a bigger backyard?
Yes, your current backyard is great — but there's not always enough room to host all the guests you want. If you have been browsing
homes
in the Tri-Valley area, it may be your time to buy. Things are shifting toward a buyer's market, and it could be your golden opportunity to purchase a new home.
If you need a realtor who can help you navigate the current market,
Doug Buenz
is your guy! With his expertise in the Bay Area, he can help you narrow down your search and place an offer on your dream home (with a bigger backyard). Before you know it, you will be hosting an even bigger outdoor party.